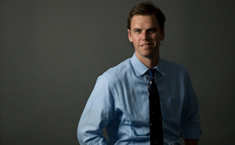 Ben Keesey
Executive Director, CEO
Ben received his B.A. in Applied Mathematics, Management & Accounting from the University of California, Los Angeles. The day after senior finals, he hopped on a plane to Africa and unknowingly rerouted the course of his life. Prior to officially joining the organization in 2005 as CFO, he worked with Deloitte and Touche LLP, JP Morgan & Associates and Brentwood Associates Private Equity. Ben now serves as Executive Director and CEO of Invisible Children, Inc. He embraces the impossible and plots the course of our daring future. His hard work is unmistakably evident; a previously unheard of grassroots documentary film has transformed into an international movement that is revolutionizing culture, policy and lives.
He is awesome.
Community content is available under
CC-BY-SA
unless otherwise noted.